Home » Archive by Author
Articles by Edwin Kwan
Edwin Kwan is the founder and editor of Little Handy Tips and Wollongong Fitness. He is also the developer for the Google Custom Search WordPress plugin and Custom About Author WordPress plugin. He also has a keen interest in Photography . Find out more about him here.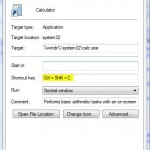 We all are familiar with windows shortcut keys to do commands like cut, copy and paste.
This tutorial covers how to assign shortcut keys to quickly open windows programs.